After a slip up with some cleaning chemicals, the Dynamic Sports Facilities team was called in to restore this multi sport court. Located in St Hilda's School at Southport, Queensland, the original court was a topped with a Decoflex indoor surface that was in good condition.
The problem was that when the cleaners went through with their floor scrubber there was an error with dilution of the chemical floor cleaner product. The result was that the topcoat was damaged, discolouring the court and partially removing some line marking.
Not to worry! At Dynamic Sports Facilities we don't just build new sports courts, we're also experts in maintenance and restoration. Our team of experienced professionals rescued this court from its close call with the cleaners and made it a useful sports facility again.
The team set to work giving the court a thorough sanding with our Polivac suction-polishing machine. Then our floor scrubber worked to remove all the dust from the sanding process – we ran this machine over the court three times to ensure all dust was eliminated.
We then applied the new surface to the court. It consisted of two topcoats to the centre of the court in Decoflex blue and two topcoats to the court surrounds in Decoflex red.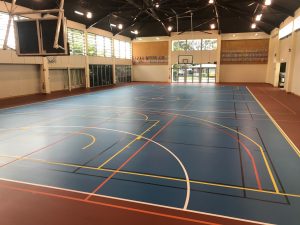 Our team added in the line marking for:
4x badminton areas in black
3x volleyball areas in orange
1x volleyball area in green (running down the court)
1x netball area in white
1x basketball area in yellow
a junior 3 point line in red
The students of St Hilda's are now able to get active on their indoor court again!
Do you have a court that is in need of restoration? Our team can assess your court during an on-site inspection and can recommend specific remedies that will bring your sports facility back to its former glory. We can assess and provide feedback on problems from cracked or split courts which may need their foundations or sub base attended to, to courts that need resurfacing with our state of the art acrylic & polyurethane surfacing products, to the more simple maintenance measures such as court cleaning.
From residential, to community and commercial projects, Dynamic Sports Facilities can assist you to produce a useful and attractive sports court that will encourage everyone to get active.
Contact us now for an obligation free quote.
SaveSave
SaveSave
SaveSave