The kids at St Mary's School in Crookwell are now able to GET ACTIVE on a brand new multisport court.  The Dynamic Sports Facilities team recently completed works to construct this fantastic multisport court which replaces a couple of overgrown old tennis courts.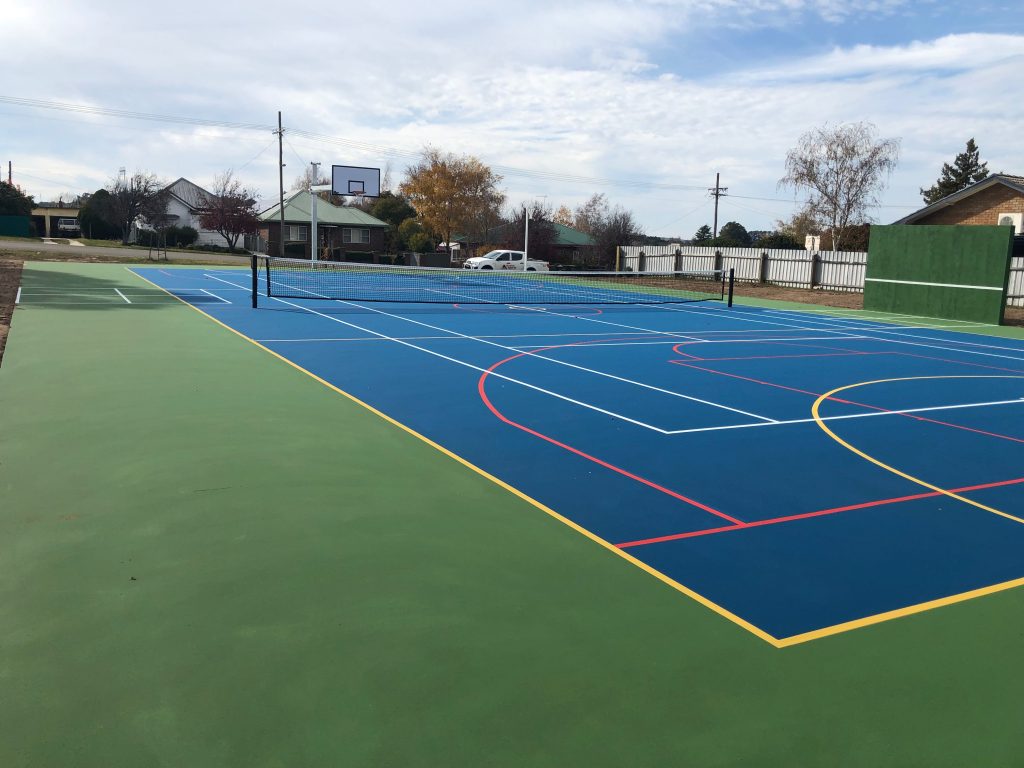 Principal of the school, Sarah Lowe says the 125 students at St Mary's now are enjoying their new sports facility.
"Our students love using our new multipurpose Dynamic Sports court!" she said. "Our school and our community now have access to a regulation sized basketball, netball and tennis court. Dynamic Sports Facilities were very easy to work with and our court was constructed quickly and proficiently."
Our mission at Dynamic Sports Facilities is to help improve the community's health and wellbeing and we love nothing more than seeing school children being able to GET ACTIVE outdoors on quality sports facilities like this one at Crookwell.
The Dynamic Sports Facilities team began the project by preparing a platform base for the new court.
A concrete slab was constructed and given a high-pressure water clean. Three coats of low slip Rebound Ace Sports 'Synpave' acrylic court surface were applied to the slab. The colours of 'Byron Blue' and 'Grass Green' were chosen giving the court a professional finish.
Line markings for tennis, basketball, netball and hand ball were applied. A practice wall was also constructed adjoining the court. We also supplied the school with equipment to complete the court including tennis posts and net, basketball towers and netball posts.
From multisport courts, to dedicated tennis, netball, basketball and other courts, Dynamic Sports Facilities has been constructing courts since the 1990's and uses only quality materials obtained through an extensive world class supply chain.
Would you like to build a new court at your home, school, community sports club or commercial sports centre? Check out our court planner for inspiration on what your new court could look like.  You can also view some of our past projects to get ideas for your own court.
Contact us today for an obligation free quote.