The North Gold Coast Netball courts were cracked and in need of upgrading. The netball club called Dynamic Sports Facilities after seeing our website and we set to work with the aim of producing a safe and aesthetically pleasing netball complex for North Gold Coast residents.
President of the North Gold Coast Netball Club, Matt Batcheldor said the existing courts were old and had deteriorated.
"The old courts had cracks and some trip hazards which were not ideal for playing on. We wanted to improve not only the safety of the courts but also bring a fresh new look," Matt said.
Our Dynamic Sports Facilities representatives assessed the 9 courts on the North Gold Coast and it was decided to resurface the courts in two stages. Three courts were resurfaced first allowing games to continue on the other courts, and then play switched over to the new courts while the remaining six courts were resurfaced.
The Dynamic Sports Facilities team started off by giving the courts a high pressure water clean, then applied a layer of latex based sealer to the cracked areas of the court. An extra layer of latex based sealer was applied to the asphalt slab. Then two coats of low slip, high quality 'Mapei Mapecoat' acrylic were applied to the court surface.
The result speaks for itself – 9 stunning and fresh courts ready for the netballers of the North Gold Coast to GET ACTIVE on!
Matt from the North Gold Coast Netball Club said having quality courts to play on makes such a difference to player safety and enjoyment.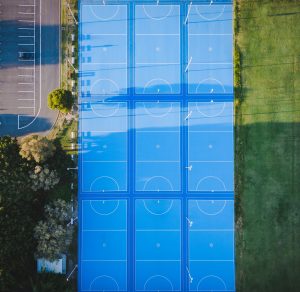 "We are just so happy with the new courts, you can see the smiles on the faces of our players when they play on the new courts. We finished the courts in our club colours, blue and yellow, which has just brought the whole area to life."
"The new surface is so much safer, they have much better grip than the old courts which helps when it's a little wet," Matt said.
Cracks, dips and other defects in sports courts can cause players to trip or slip. If your community sports facility could use some maintenance or resurfacing we can help! Our team can help direct you to some sporting grants that may help cover the cost of resurfacing works. We can also provide you with grant submission advice including:
Initial advice and suggestions
Budget pricing
Full scope of works planning
Detailed pricing and quotations
Grant submission advice
If you have a court that needs a facelift contact us for an obligation free quote.